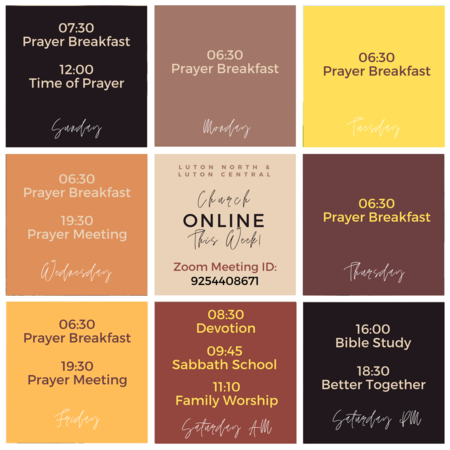 Welcome to Luton Central Seventh-Day Adventist Church



Because of the spread of COVID-19, the Adventist Churches in the UK have decided to close until it is safe to open again.

It represents a new change for us and an opportunity to worship outside of our walls. We are now meeting online using Zoom. Our services are listed below. If you would like to join us, feel free to click this link

- https://zoom.us/j/9254408671

In the meantime, if you or anyone you know need food, practical or spiritual support, or just someone to talk to, please use on of the numbers below.


We are here for you! :-)
Our Mission Statement:
As followers of Jesus, we are 

passionately

devoted to God,

loving

each other,

serving

our community and

sharing

hope.
What's Happening...
No upcoming events